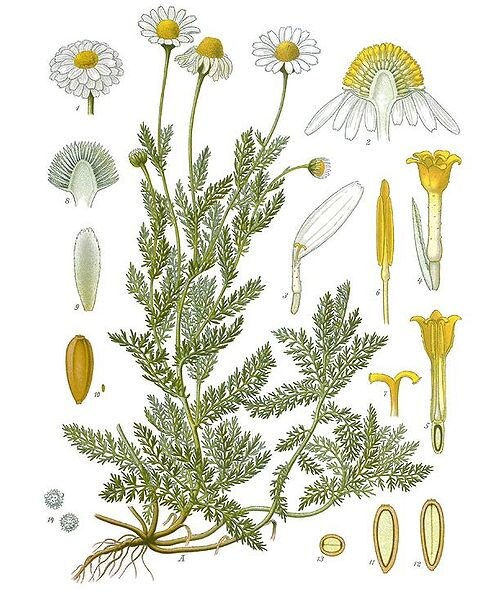 Chamomile Benefits
The word chamomile actually refers to a range of different daisy-like plants, which are a member of the Asteraceae family. There are many different species of chamomile, the two most commonly being German chamomile (Marticaria recutita) and Roman chamomile (Chamaemelum nobile). They have been used since Ancient times for their calming and anti-inflammatory properties, and each offer their own additional health benefits.
History
Chamomile is an age-old medicinal herb known in ancient Egypt, Greece and Rome. Chamomile's popularity grew throughout the Middle Ages when people turned to it as a remedy for numerous medical complaints including asthma, colic, fevers, inflammations, nausea, nervous complaints, children's ailments, skin diseases and cancer. As a popular remedy, it may be thought of as the European counterpart of the Chinese tonic Ginseng.
Chamomile has been used for centuries in teas as a mild, relaxing sleep aid, treatment for fevers, colds, stomach ailments, and as an anti-inflammatory, to name only a few therapeutic uses. Chamomile may be used internally or externally. Extensive scientific research over the past 20 years has confirmed many of the traditional uses for the plant and established pharmacological mechanisms for the plant's therapeutic activity, including antipeptic, antispasmodic, antipyretic, antibacterial, antifungal, and anti-allergenic activity.
Recent and on-going research has identified chamomiles specific anti-inflammatory,anti-bacterial, muscle relaxant, antispasmodic, anti-allergenic and sedative properties, validating its long-held reputation. This attention appears to have increased the popularity of the herb and nowadays Chamomile is included as a drug in the pharmacopoeia of 26 countries.
The oil serves many medicinal purposes, but one of the best-documented uses is for relaxation. The oil has a calming effect on people, and can be used to help induce sleep, ease frayed nerves, and promote a general sense of calmness and well being. It is great for those with nervousness or anxiety problems. Aside from having mental calming properties, chamomile is also good at relaxing sore muscles and tight joints. It can ease menstrual cramps and back aches, as well as relax the digestive system to ease upset stomach or indigestion issues. When applied topically to the skin, it soothes redness and irritation. For this reason, it is a common ingredient in skincare. It also eliminates itchiness and is good for those with allergic reactions. Sometimes chamomile is used on rashes. Because of its anti-inflammatory properties, it can work to take down swelling caused by rashes or skin irritants.
Finally, the oil has antibacterial properties and can help to clean and protect wounds from infections. It is commonly used as an all-natural remedy for dental abscesses, conjunctivitis, and other infections.
There are a wide variety of ways in which chamomile essential oil can be ingested or applied on the body, depending on the reason the product is being used. For example, the oil can either be applied topically*when dealing with skin problems, or ingested orally*for upset stomach or other gastrointestinal issues. To ingest the oil, it should be diluted into water, as only a small amount is highly potent. One to two drops in a glass of water should be sufficient for using as a mouthwash or ingesting for stomach problems. To use in a bath as an aromatherapy agent and muscle relaxant, less than 10 drops should still be sufficient.
The scent of the essential oil can be inhaled as a form of aromatherapy. The oil can be vaporized for aromatherapy use. This method works well to soothe nerves and headaches. It can be blended with another oil, such as such as sesame, mineral, or olive, to be used for massaging aching muscles and joints. Finally, the oil can be blended with other cream based lotions to provide relief from rashes and irritated skin.
Cautions
While chamomile essential oil is generally quite safely used by people of all ages, it is not recommended for those who are pregnant. Additionally, it is recommended that those with strong allergies to plants such as ragweed do a spot check on a small patch of skin before applying to the whole body. This is because chamomile can, on occasion, cause allergic reactions.
If you suffer from allergies to plants of the Compositae family (a large group including such flowers as daisies, ragweed, asters and chrysanthemums), you may wish to be cautious about using chamomile at first. While there have been isolated reports of allergic reactions, causing skin rashes and bronchial constriction, most people can use this herb with no problem.